Currently there is no upcoming webinar.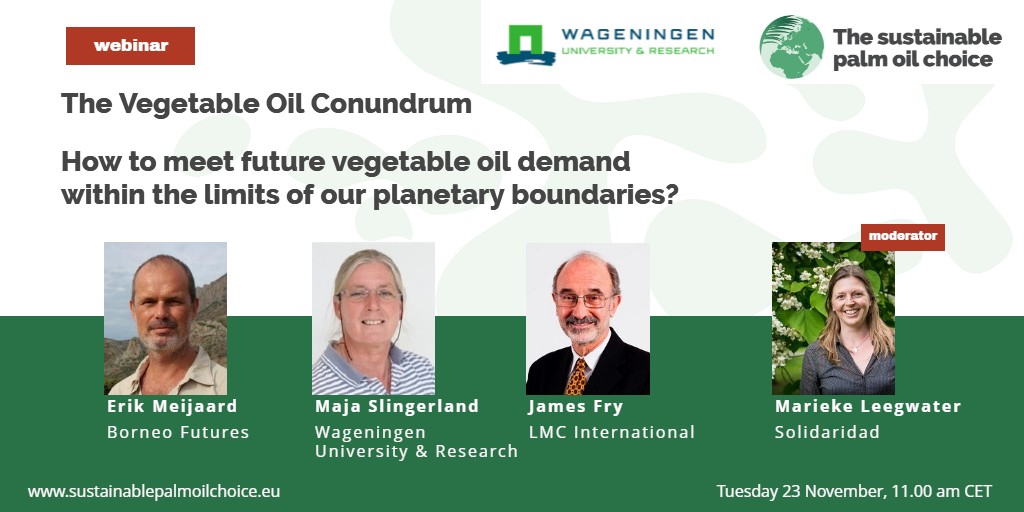 The Vegetable Oil Conundrum – How to meet future demand while staying within our planetary boundaries?
Global vegetable oil demand is growing fast. With rising #population growth, expecting to hit almost 10 billion people by 2050, demand for #vegetableoil will increase tremendously in the coming decades.
Rising demand during the recent past has shown: This can have catastrophic consequences for #ecosystems, #biodiversity, and the #climate. For example, vast amounts of tropical forests have been cleared to make way for oil palms in the past. At the same time there is no other vegetable oil that is more productive than palm oil.
In a world that is becoming increasingly scarce of land and other resources to feed a growing population, while consequences of ignoring planetary boundaries in the past become more and more visible, we need to ask ourselves: 
How can we solve the conundrum of meeting future vegetable oil demand while protecting our planet? 

Which vegetable oils play a crucial role? What's palm oil's role in this?

What is the role of industry, policy makers, NGOs and consumers?
Date & Time
23 November 2021, 11.00 am CET
Programme
Welcome & Introduction, Marieke Leegwater, Solidaridad
Global Forecast on Vegetable Oil production and demand – Can we keep up? (presentation) James Fry, LMC International 
What are current trends in vegetable oil demand?

Can production keep up?

Which oils will be most relevant in the future?
Can we create a sustainable vegetable oil production system within the planetary boundaries? (presentation) Erik Meijaard, Borneo Futures 
Production within planetary boundaries:
Which planetary boundaries do we cross or risk to cross looking at these trends?

What are the major challenges for meeting future demand within planetary boundaries?
From theory to practice:
What needs to change in the industry?

What roles do different actors play?
What's palm oil got to do with it? (presentation) Maja Slingerland, Wageningen University & Research
Meeting future demand for palm oil without forest and biodiversity loss or peat land cultivation? Is it possible?

Which approaches are needed?
Discussion & questions from audience, Marieke Leegwater, Solidaridad
About the Speakers
| | |
| --- | --- |
| | James Fry is the Chairman of LMC. He jointly founded LMC International in 1980, and is the company's Chairman. He continues to devote almost all his time to the company's research and consultancy activity and he is in overall charge of its work in commodity-based sectors. LMC's headquarters are in Oxford, UK. LMC has three US offices, with the regional HQ in New York, as well as offices in Kuala Lumpur, Singapore, Hong Kong, Shanghai, Bangkok and Frankfurt, with a partner office in São Paulo, Brazil. Dr. Fry was educated at Oxford University, where he obtained an MA in Mathematics and a Doctorate in Economics. |
| | Erik Meijaard is a conservation scientist and practitioner based in Brunei Darussalam. For the past 30 years, he has primarily worked on the conservation of orangutans and other mammal species in the South-East Asian region. His current research focuses on the sustainability of agricultural production, effectiveness of orangutan conservation strategies, and studies on deforestation and climate change. He is a managing director at Borneo Futures and an honorary, adjunct and visiting professor at the University of Queensland, University of Kent and Karlova University, respectively. |
| | Maja Slingerland is associate professor at Wageningen University. Her major research and education themes are food security and sustainability. About 15 years ago she started research in oil palm with a focus on smallholders, increasing yield and designing integrated systems with other crops or livestock. She supervises Master and PhD students and preferably works with implementing partners in the different countries. |
| | Marieke Leegwater coordinates the global Palm Oil Program at Solidaridad and is programme manager of the Sustainable Palm Oil Choice initiative. She is member of the RSPO Complaints Panel and co-chairs the RSPO Standing Committee Smallholders. Before Marieke joined Solidaridad, she was sustainability manager at the Dutch Product Board for Margarine, Fats and Oils (MVO), the industry association of the Dutch Oils and Fats Industry. She facilitated the set up of the Dutch Task Force Sustainable Palm Oil and contributed to various RSPO and RTRS Working Groups. Marieke holds a master degree in Public Law. |