Dorset Sustainable Palm Oil Community
Pardon? What on earth is the Dorset Sustainable Palm Oil Community? You don't grow oil palm in Dorset do you? 
In Autumn 2021, Efeca launched the Dorset Sustainable Palm Oil Community (DSPOC).  We had run the UK Sustainable Palm Oil Initiative for many years, supporting UK businesses in developing sustainable supply chains of palm oil (and before that, had run the Central Point of Expertise on Timber which had included sustainable palm oil in its remit). During the pandemic, we decided we wanted to do something practical, on the ground, local and positive. 
The idea of DSPOC all started with a conversation or two with Cat Barton from Chester Zoo. Chester Zoo had been incredibly successful a couple of years before with their first Sustainable Palm Oil City where they made Chester the world's first sustainable palm oil city, and have embarked on a mission to expand the initiative to other communities – now including Dorset.  
Whilst our behaviour change and awareness raising campaign followed the same format at Chester Zoo's initial trail-blazing project, DSPOC is on a much bigger scale. It is still the only county-wide project in the world, covering over 2,600 km² of area, with over ¾ million people living in Dorset (including Bournemouth, Christchurch and Poole). 
Along with 6 other communities (Mochdre, Newquay, Oxford, Hull and East Riding, Blackpool and Chester), DSPOC is all about supporting local businesses and organisations – whether they are cafes, restaurants, fast food outlets, large businesses, tourist attractions, councils, hospitals or schools – to make the switch to sustainable palm oil in the food they use, serve and sell. After firstly pledging to become a sustainable palm oil champion, companies identify conventional palm oil in food products by asking their suppliers and then make the switch to a 100% certified sustainable alternative.
Ahh, so it isn't about growing oil palm, but demanding certified sustainable palm oil? 
Exactly! Our aim is to become the world's first sustainable palm oil county. 
Since the start of the project, we regularly connect with over 700 people each month through our monthly update newsletter, and have been featured in over 30 newspaper and magazine articles. 
And I hear you have a famous Ambassador? 
We currently have 46 pledged and fully fledged champions, and our 20 Ambassadors, including the world renowned conservationist Dr Jane Goodall, DBE, Founder of Jane Goodall Institute, and UN Messenger of Peace. 
To become the world's first sustainable palm oil country, we need a total of 50 champions to sign up, across various categories. Our infographic shows that we are almost there – we need a few more sign ups, particularly from the hospitality sector and workplaces over 20 people – but I feel our biggest impact has been not in the number of businesses who have signed up, but in the number of people we have talked to face-to-face who now know that boycotting palm oil isn't the solution, and that demanding certified sustainable palm oil is something we can all do.  
So, how many have you talked to? 
We have calculated it to be almost 1,900 people at various events throughout Dorset – talking so much, that we have lost our voice. The Efeca dog, Bert has been at many of them too.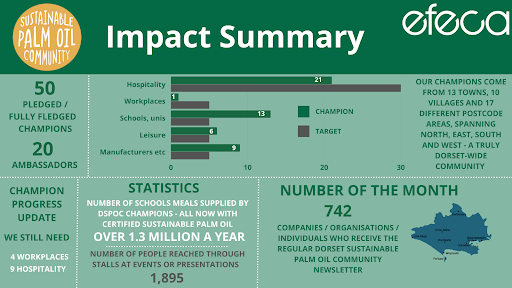 Contact for more information
For more information on the sustainable palm oil communities, how to get involved, or how to set up your own community (village, town, city, or county), contact me on: lucy.cullinane@efeca.com / dorsetsustainablecommunity@efeca.com